Triumph, always looking over their shoulder at the opposition, recognised that there was room for some competition in the sports coupe sector, particularly up against the MGB/GT.
Once again, the considerable talents of ace designer Giovanni Michelotti were called into play, with the results being the Triumph GT6, launched in 1966
The GT6 was, in simple terms, the coupe version of the top-selling Spitfire soft top.
The Triumph GT6 was powered by the same 2-litre (122 cu in) six-cylinder engine used in the Vitesse saloon and convertible, with a more luxurious interior that of the Spitfire while being eminently more powerful.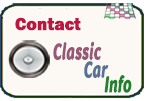 Unlike the Spitfire, the GT6 was only available as a hardtop coupe, and its name clearly signalled its rivalry with the MGB GT.

The fastback styling was 'borrowed' from competition Spitfires which had run previously at Le Mans and on rallies, but the GT6 was given greater practicality thanks to its hinged rear window.

Initially, the GT6 suffered from some considerable handling problems, rectified with the launch of the Mk II.

The GT6's looks and impressive performance earned it the name of `the poor man's E-type.'

Effectively a Spitfire with a hard top grafted on and hatchback added for practicality, the new model inherited the Spitfire Mk 3's "bone-in-the-teeth" front end, but otherwise, the styling was not changed.

Inside the cabin there was now a matt finish on the wood fascia instead of the gloss finish on the Mk 1 fascia. There were face-level fresh air vents and a padded-spoke steering wheel.

Two years later, in November 1970, the Mk 3 version took over, with all the same re-style features as the Spitfire Mk IV, namely the squared-off tail, re-skinned nose and integrated front bumper.

Triumph invested little or nothing in chassis design updates for the Mk3 version, although they did add through-flow ventilation in the cabin, as well as a newly designed and very impressive set of road wheels.

Overdrive remained an option, and for the Mk 3 controlled by a slide switch embedded in the top of the gear-lever knob, a UK motor industry "first."

As was often the case,  the final version of the GT6, the Mk 3 was regarded as the best of all the versions.

Not
just because the Mk 3s were the fastest, but also because of their highly improved handling capabilities and high level of the ventilation and driver and passenger comfort in the cabin.
 
Well thought of in later years, the GT6s became something of a collector's car with a following which has consistently remianed loyal.