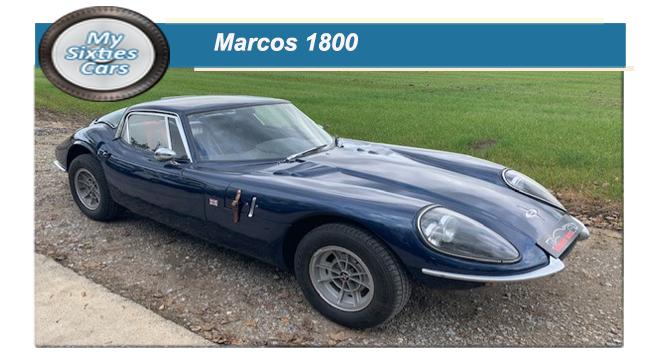 The Marcos car company was founded by Jem Marsh and Frank Costin; the first parts of their surnames making up the company name.

Costin had worked on the De Havilland Mosquito fighter-bomber during World War II and it was his concept to use plywood to build sports cars.

W
hile it was not the first Marcos production car; with that claim to fame going to the  odd-looking GT, which had gull-wing doors and a four-piece windshield, the 1800 was the car that helped put the company on the map of independent sports coupe manufacturers

The 1800 chassis did have a steel subframe although Marcos did made extensive use of wood.
On top of that, there was a gloriously curvaceous fibreglass body marked by the long shark-like nose, sharply raked screen, two-seater cabin and cut-off tail, first appeared in 1964.
 
Like the earlier ugly duckling GT, the 1800's chassis was constructed from spruce and marine ply with a GRP body shell, the running gear and all the chassis and transmission being proprietary, or modified production car parts.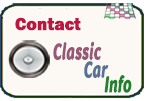 Local steel reinforcement around suspension and engine mounting points helped the integrity of the assembly.

All 1800s were fitted with front-wheel disc brakes in the same Marcos basic style, with the front air intake hidden under the overhanging nose.

On the other hand, the 1800's rear suspension was sophisticated, using a De Dion system, which mixed a solid axle with floating joints at each wheel hub, making for a supple ride, even over poor surfaces.

At launch, the engine was a Volvo 108-cubic-inch (1,786-cc), four-cylinder unit—an unusual choice for a sports-car company—to which Marcos added an overdrive gearbox.

In 1966 the Volvo power plant was swapped for one from Ford, while the original rear suspension, which was as challenging to build as it was to maintain was switched to a more straightforward, conventional live-axle design.

Three years later, in 1969 the 1800's wooden chassis was abandoned in favour of steel, a break in tradition but allowing  Marcos the opportunity use more powerful engines such as Ford's Essex 140 bhp (104 kW), which could push the lightweight Marcos up to 120 mph (190 kph).

Marcos planned to market the 1800 in the United States, but their plans were thwarted by delays in getting it through emissions tests were the company's undoing.

Mounting fixed costs without an appropriate return on investment saw the company gradually begin to encounter financial difficulties, exacerbated by the crippling development costs of the ill-fated Mantis.

A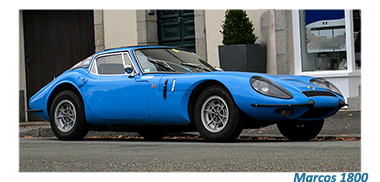 lthough this far from the first time in their history that Messrs. Marsh and Costin had been on the brink of insolvency, however this time, it was enough to force Marcos to admit defeat and close their doors.

At their peak, Marcos was producing ten cars weekly, mostly all of them before the cut-off date of September 1969, which was when the unique wood chassis was replaced.

Today, surviving Marcos 1800 are prized as classic racing cars, with well-maintained track versions fetching high prices-close to half a century after they first appeared.