By the early Sixties, Simca had risen to become the largest privately owned car manufacturer in France, comfortable in their niche for producing conventional front engine/rear-drive saloons, which they had been doing for many years.
Henri Theodore Pigozzi, founder and general manager at Simca, always had his finger on the pulse of what the domestic and Western Europe market was looking for.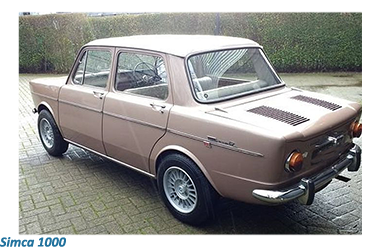 In the late Fifties, fuel remained in short supply as a result of the Suez crisis in 1956, and Pigozzi became convinced that the first manufacturer that came up with a light and economical family saloon would take a share of the growing new niche in the market for compact economy cars. Pigozzi's vision was to develop an entirely new Simca range but one that could be a continuation of the Simca 5 that dominated the local market during the Thirties and Forties.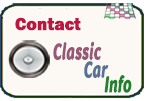 Understandably Pigozzi had a lot of affection for the 5, and its simple two door, four-seat formula, and was convinced that a Sixties version would enjoy the same levels of success.

Simca called upon the considerable talents of Felice Mario Boano founder of the Carrozzeria Boano design studio of Turin, Italy to carry out the design work on the 1000.
Henri Pigozzi handed Boano a clear two-part brief- that 1000 would have a timeless design to remain attractive for the next ten years.
The second part of the challenge was to have cars available for launch in time for their preview at the Paris Auto Salon in October 1961.
Carrozzeria Boano was a man to be trusted, having designed some of the most iconic cars of the Fifties, among them the Lancia Aurelia B20 GT and even the ultimate accolade- a car bearing his name- the Ferrari Boano.
Simca launched the 1000 (or mille), as it was known in France, at the Paris Motor Show of 1961.
Reaction to Simca's new compact was positive, with the only possible talking point coiled be that the 1000's 944cc (58 cu in) engine was in the rear, possibly taken from Renault who were very much in favour of rear engined cars.
The Simca 1000 featured all-round drum brakes and worm-and-roller steering, so was lacking in much engineering innovation, but it was cheap to buy and run, an edge that the majority of French drivers were looking for at that time.

By 1965, significant changes had been made to the interior so it could compete with Renault's R8.
It wasn't until 1969 that long overdue brake, steering, and suspension changes were finally introduced, along with an exterior redesign.
By 1970, Simca had been swallowd up by Chrysler, although the Detroit giant, at least initially, made very few changes to the management structure and model range at their newly acquired French subsidiary.
Boano's design more than stood the test of time remaineing in production almost unchanged for close to twenty years till 1978.
Pigozzi's vision of simplicity, low cost and timeless design added to Chrysler's lack of interest and desire to finance the cost of developing a replacement all played their part in the 1000's longevity.
All that is happening NOW in the world of classic cars.
Got a question, a comment, a suggestion or an offer??? - FEEL FREE TO CONTACT US ANYTIME!!
Take a step back in time to the renaissance age of the UK and European Car Industries
A complete glossary of classic car restoration and repair terminology
All you need to know on how to acquire, restore and maintain a Classic Car