The classic Porsche 911 coupe made its debut appearance at the 1963 Frankfurt Motor Show, with production commencing early the following year.
After a considerable number of rumours that changes were in the offing at Porsche, the six-cylinder successor to the original 356 series had finally arrived.
Styling was similar on the whole, although the 911 displayed more of a fastback profile, including a "knife-edged" appearance at the front end.
The 911's nose was designed to extend downward into the bumper line, while narrowing toward the rear, with a low beltline.
Horizontal rectangular tail lamps were wrapped around the rear fenders, while the back bumper extended to the rear of the wheel openings.
On its launch, comparisons were made between the 911 and the Volkswagen Beetle. Even though they certainly did not share the same price ticket, there is no doubt that they did share a lot of DNA.
Both models were the last to be designed by two members of the Porsche family, the Beetle by Frederick Porsche Senior, and his son Ferry.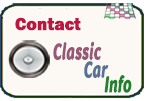 While Ferry did have his hand in the development of the 911, most of the credit for the design had to go Ferry's son, Frederick Porsche the Third, better known as "Butzi."

Like its mass-market Beetle ancestor, the 911 was a unique rear-engined, air-cooled car that would retain its characteristic aerodynamic shape for decades.
A 1991cc flat-six engine powered the Porsche 911 teamed with either a four- or five-speed manual gearbox according to the buyer's choice.
The 911 was unquestionably a " work in progress, " and just a year after its initial release, Porsche released the 911S, which, externally, was almost a complete replica of the 911, apart from its uniquely distinctive five-spoke 'flower-petal' alloy wheel manufactured by West German steel giant, Fuchs.

The 911S was the first Porsche to be fitted with Fuchs rims and became a major component in building the car's character.
Chassis improvements, including all-round ventilated disc brakes, Koni shock absorbers as well as a second roll bar improved both performance and safety.
The first Porsche 911S was the model that established the line's performance credentials, though initially there were several initial problems.
Problems which Porsche rapidly ironed out, going on to consistently update and improve the model till it became a legend in its own lifetime.
All that is happening NOW in the world of classic cars
Take a step back in time to the renaissance age of the UK and European Car Industries
All you need to know on how to acquire, restore and maintain a Classic Car
A complete glossary of classic car restoration and repair terminology
Got a question, a comment, a suggestion or an offer??? - FEEL FREE TO CONTACT US ANYTIME!!