The new 400 SuperAmerica made its debut at the Brussels Motor Show in 1960. Replacing the 410, the new car used a shortened 250 GT chassis and a larger, 3967cc (242 cu in) version of the shorter Colombo-designed V12 in its most developed form.

The engine unit was lighter than the V12 used in the 410 and contributed to the lower overall weight of the 400 model and backed up by cylinder heads also derived from the 250 GT, and triple Weber carburettors, it produced 253kW (340bhp).
This was advertised as turning the car into a 257km/h (160mph) "missile".
Producing a car with such power capabilities was not a responsibility that Ferrari took lightly.
Much work was done on the chassis to be sure it would be up for the task as well as in the suspension, which was set-up with comprised wishbones and coil springs at the front, while the conventional live axle was retained at the rear.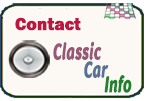 The four-speed transmission also featured overdrive while braking was by discs on all four wheels.

From 1962, approximately half the production run had a lengthened wheelbase.
The 400 SuperAmerica chassis was lengthened during 1962 to 2.60 meters matching that of the original 410 SuperAmerica models, but the extra room was not used to provide occasional rear seats, just more luggage space.
According to Ferrari's records, which were not particularly accurate at that time, it appears that around twenty long wheel based Coupe versions were built.
The Cabriolet model was also on offer on the longer chassis, although no production figures are available. The 400's "ant-eater" nose, sloping tail form meant that the car was dubbed the `Aerodinamico' and was most popular with well-heeled customers who could afford to order one of these imposing machines.
In the end, the 400 SuperAmerica fell into an all too familiar category for Ferrari in the early Sixties- an over-expensive designed to appeal to the self- indulgent , meaning that most of the fifty produced were exported to North America.
All that is happening NOW in the world of classic cars.
Take a step back in time to the renaissance age of the UK and European Car Industries
All you need to know on how to acquire, restore and maintain a Classic Car
Got a question, a comment, a suggestion or an offer??? - FEEL FREE TO CONTACT US ANYTIME!!