The 1500 sedan was one of BMW's lesser-known models of the Sixties, yet it led the way, as the first of the New Class" models to a long series of larger-engined models that changed the fortunes of the company.
The BMW 1500 made its debut came at the Frankfurt Show in September 1961.
Thanks to glowing reviews in the motoring press, demand from the public for the 1500 saloon was strong.
Designed mostly in-house at BMW, the 1500 conveyed quality and prestige, without resorting to distasteful excesses of chrome or self-conscious design features that was common in its competitors.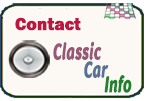 The new BMW four-door sedan used unibody construction and was larger than its predecessor, the little 700, although considerably smaller than the big BMWs. Up front was a tiny version of BMW's already-traditional "kidney' grille, each element made up of vertical strips.
Single round headlamps were contained in full-width side grilles with horizontal bars. A round BMW emblem stood at the hood front. Curious integral parking lights wrapped around just below the fender crease, where it met the hood. At the rear were tri-section tail lamps, with a BMW emblem and '1500' nameplate on the left of the back panel. Front and rear doors held vent wings while a simply painted dash dominated the 1500's interior.
The front end angled forward at the top, showing a profile that would make BMWs easy to spot over the next three decades.
Seating was sufficient for five passengers, though two were more comfortable in the back .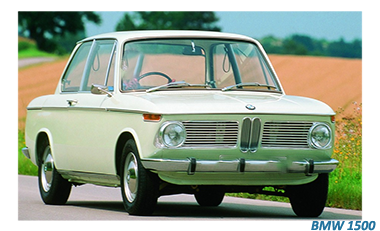 The 1500 single-handedly turned BMW's fortunes around, despite remaining in production for just two years, as the first of the company's Neue Klasse (New Class).
Previous models had just broken even financially, but the 1500 began the transition of BMW from a slightly inept company, albeit one with high standards of engineering, to the world force in car production that it has become today.
All that is happening NOW in the world of classic cars.
All you need to know on how to acquire, restore and maintain a Classic Car
Got a question, a comment, a suggestion or an offer??? - FEEL FREE TO CONTACT US ANYTIME!!
Take a step back in time to the renaissance age of the UK and European Car Industries
A complete glossary of classic car restoration and repair terminology