After selling more than one hundred thousand versions of their  P4 range during the Fifties, in September 1958 Rover launched the Mark I version of the  P5, a five-seat 3-litre engine saloon.

The P5 's available in both manual and automatic transmission forms, marked something of a technological breakthrough as it was built on a forward sub-chassis combined with a unitary construction steel body that supported the suspension, engine as well as a number of other auxiliaries.

A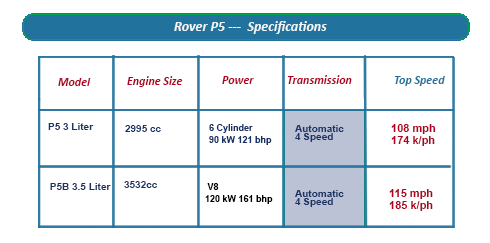 larger car that took the Rover line upmarket, appealing as it did to senior business people and civil servants the P5 soon became established as one of Britain's best-selling luxury cars of the Sixties

Joined by a hunch-roofed coupe version in 1962, the Rover P5 had established a niche with its modem but elegant styling.

The cars' interior was "UK traditional" with ample portions of  African cherry wood, hide upholstery and thick Wilton carpet on the floor.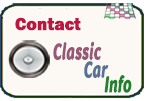 Such was the levels of opulence that the Rover P5 was described by the media as an" Edwardian drawing-room on wheels ", perfect for the power brokers of the Sixties on limited budgets.
In January 1960 interior trim was altered, upholstery having vertical instead of transverse flutes and oblong interior lights replacing round units.

Big and bulky, the 3-litre was built for comfort and not speed, topping around 103 mph in coupe form although capable of reaching 0-50 mph in 13 seconds, eben though it was fitted with automatic transmission. 

A minor upgrade in 1961 saw front quarter lights introduced, but that was just a holding operation until the Mk 11 appeared in 1962.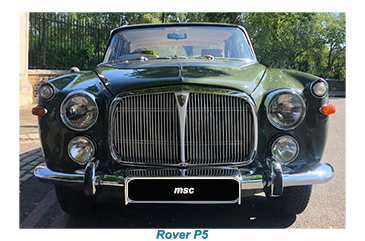 This version featured better suspension and a tuned engine, also offering the choice of a coupe version with sporty lowered roofline. The Mk III of 1965 was little changed, though the styling was updated, and the engine's power output further tweaked.

As the P5 was such a comfortable ride,it was said that owners were never in that much of a hurry to get anywhere,
By the mid-Sixties, minor grumblings of discontent were being heard, as the  P5's inability to reach more than  100mph (160kph) as an automatic became an issue.

That minor shortfall was put right in 1967 when a high-powered version of the P5 was launched, the P5B, with the B short for Buick.

Rover had taken the American company's unsuccessful lightweight aluminium 3528cc unit V8 and improved it out of all recognition.

Understandably this engine gave the P5B a lot more power, especially when teamed with standard Borg-Warner automatic transmission and power steering that came as standard.

Not much was changed externally between the P5 and P5B apart from a pair of fog lamps that gave the front a magisterial four-light look.  
Other touches for the P5B included chrome Rostyle wheels and prominent '3.5 Litre' badging

As a result of all these updates, suddenly the P5 blossomed- to becomer the car it always should have been.

With a reasonable price tag Rover could barely keep pace with demand, a demand which remained strong until its death in 1973.

Much quicker than the 3-Litre, and with a top speed of nearly 110mph, this smooth and impressive car sold steadily for six years and was changed very little in that time.

The P5 may have remained as an aspirational purchase for the British middle classes but was classy enough to be acceptable to Royalty and Prime Ministers. Queen Elizabeth II used one, as did PMS Harold Wilson, Edward Heath, James Callaghan and Margaret Thatcher.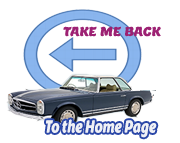 The P5B has become a collectable modern classic, and still gives drivers a superior feeling as they glide effortlessly amongst lesser vehicles.
The saloon was produced in the largest numbers, making the coupe rarer and therefore more desirable for collectors.