When supplies of the 2138cc Triumph four-cylinder engine began to become scarce during the late Sixties, Morgan found themselves with a problem.
 
The problem was how and where to find a high-performance engine to power their flagship Plus 4 model.

Thankfully, a solution was rapidly found, in the form of Rover's all-alloy 3.5-litre V-eight derived from a discarded Buick design of the early Sixties and recently introduced in the big P511 saloon.

Launched in September 1968, the Morgan Plus 8  went on to become an all-time best-seller for the company.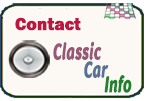 Though wider and longer than the Plus Four — two inches in the wheelbase, two inches in the track — the Plus 8's original l design was precisely the same.

The big difference was in the V8 engine placed in in the  Morgan Plus 8 that was the first significant engine change made to the traditional body/chassis layout since 1960 (and even that had been a Ford like-for-like swap).

Not only that, but the new car had a significantly longer wheelbase and wider track than the Plus 4 which it replaced.

Indeed, the V8 engine gave the plus 8 a deceptive oomph, with blistering acceleration and surprisingly high top speed easily attainable.

All cars had new-design 15in cast alloy road wheels, and all came with the familiar two-seater sports car style and a steel-panelled body.

Once launched, the Plus 8 was an instant best-seller by any Morgan standards, and enormous waiting lists eventually built up.
The Plus 8  continued in production until 2004 (with various engine upgrades along the way), an all-time Morgan best-seller with over 6,500 produced, with updates and improvements made steadily and consistently during the model's  36-year production run.

R
emaining highly collectable British classics robust enough to enjoy taking to the road day in, day out (especially in summer with the top down)  the Morgan Plus 8 is sufficiently rare to ensure that second-hand values remain high while holding the role as a fitting epitaph to one of the most classic automobile designs of the twentieth century.