Humber entered the Sixties with just two models in production, the imposingly, large, remarkably well appointed but increasingly dated Hawk and Super Snipe.
In an attempt to spread their influence across the market, in 1963 the Rootes/Chrysler group announced the launch of the Humber Sceptre 1  a more downmarket model, its design lightly based on the shell from the  Hillman Super Minx.
P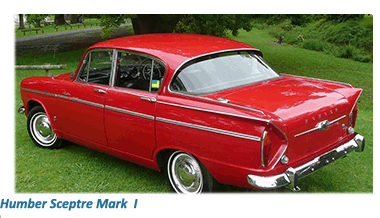 owered by a 1592cc engine matched up with a close-ratio four-speed gearbox that provided self-cancelling overdrive on third and top as standard, the Humber Sceptre Mark 1 was a fast car thanks to its lightweight, capable of reaching 92 mph (150k/ph).
The Sceptre' s performance levels were further enhanced when Humber decided to replace the twin Zeniths carburettors initially fitted with a single Solex twin-choke compound carburettor.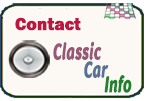 With all that power, to help draw the Sceptre to an immediate stop, servo assisted front disc brakes
were fitted
as standard.
In September 1964 Humber also began to provide the Sceptres with a newly designed all-synchromesh manual gearbox while automatic transmission as an option.

Only ever produced as a four-door saloon, the Humber Sceptre Mark I was more luxurious, and some say better looking than its stable mates.
The Sceptre I featured a smaller front grille that stood out thanks to its h vertical bars, twin headlamps, sidelight/indicator units in horizontally barred side grilles, and rear fins formed in a very pronounced V shape on the vehicles' tail around the vertical rear light clusters.
In keeping with the Humber tradition, the Sceptres came with a high level of interior trim, including a wooden dashboard, fully reclining front seats, an adjustable steering column, comprehensive instrumentation as well as a host of other refinements that the public would expect to find in a Humber.

Despite all this luxury did seem a little incongruous in this medium range family saloon.

In 1965 Rootes announced the launch of the Mk II version of the Humber Sceptre, with the principal difference that it came fitted with the more powerful Rootes Group five-bearing crankshaft 1725cc engine.
E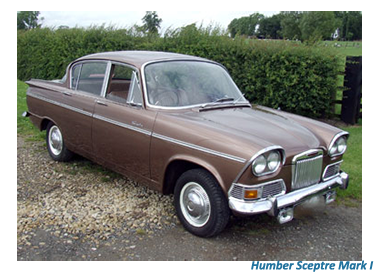 xternally the Sceptre remained much the same apart from being fitted with a much larger wraparound windscreen,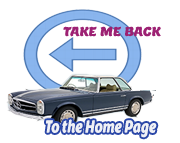 Undoubtedly the most upmarket offshoot of the "Super Minx" at that time, when that model was discontinued in 1967, so was the Mark 2 Sceptre, replaced by the Mark 3, strongly based on the top-selling Hillman Hunter.