By the mid-Sixties, the long-established Humber brand was gradually disappearing, slowly being absorbed into the Rootes' empire.
While the Super Snipe was the last model specifically designed and launched as a Humber, the Humber Sceptre Mark 3 carried the dubious distinction of being the last model to bear the one -time-hallowed Humber insignia.
The release of the Mark Three was announced one year after the Hunter had gone on sale.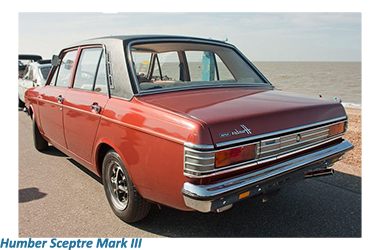 Like the earlier-generation Sceptre, the new model was very closely based on the mass-market Hillman counterpart, but with some style and mechanical changes to justify the higher price.

The truth was that the Sceptre Mark 3 was the worst form of badge engineering with almost nothing to separate it from its stablemates, the entry level Hillman Humber, the more luxurious Singer Vogue or the so-called sports version of the model, the Sunbeam Rapier.
The only design factor that separated the Sceptre from its stable siblings was its a slightly modified roofline and wraparound front windscreen.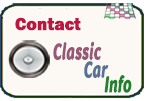 The similarity between the Sceptre's front and the Sunbeam Rapier was really strong with its quad headlights, chrome grill and rounded chrome trim around the sidelights.
 This was no coincidence as Sceptre 3 had been developed as a Rapier till a late stage in production.

Why the Rootes Group decided to launch the Humber Sceptre 3 will never really be known, although it did provide the private buyer with the choice of a very deluxe version of the Hunter at a very competitive price.
T

he Sceptre 3 was a tribute to Humber's tradition established more than seven decades previously of producing top quality vehicles with all the usual trimmings, including wood-veneer fascia, optional leather seating, comprehensive instrumentation and a fully adjustable steering column.
On the outside, the car stood out thanks to its vinyl roof and extra allocations of chrome on its rear panel and across its wheel arches.  

These touches set the model apart from its less well-appointed stablemates, as did its engine- a more potent version of the 1,725 cc Rootes produced power train fitted on the other " Arrow " series.
 Overdrive was standard while Borg-Warner automatic transmission was optional.

 The Sceptre 3 was made considerably faster and more powerful thanks to being equipped with twin carburettors that helped the engine to generate a respectable 87 bhp.  
D
espite all these enticements, the Humber Sceptre Mark Three never set the heather on fire regarding critical approval or sales, with just short of 44,000 produced in its nine-year production run.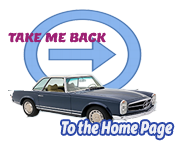 That meant 5000 annually, while a drop in the ocean in the era of mass production was still a record for a Humber.
When the Sceptre Mark Three was eventually discontinued in September 1976, it signalled the end for the Humber marque.